After done my last acting class, we met up w/ friends in Belvedere st. at Cole Vally of SF city!

Kids and adults all had a blast there. The neighbor blocked the whole street and every single house was decorated nicely or should I say "spookyily" for Halloween!!!!

I didn't prepare a costume for myself this Halloween but I did a special make-up instead. I got the inspiration from Chanel 09 Fall runway look but is a bit My version!!

Instead of attaching sequins or lashes at bottom,

I found myself a super fun/gorgeous fake lashes from Make-Up-For-Ever.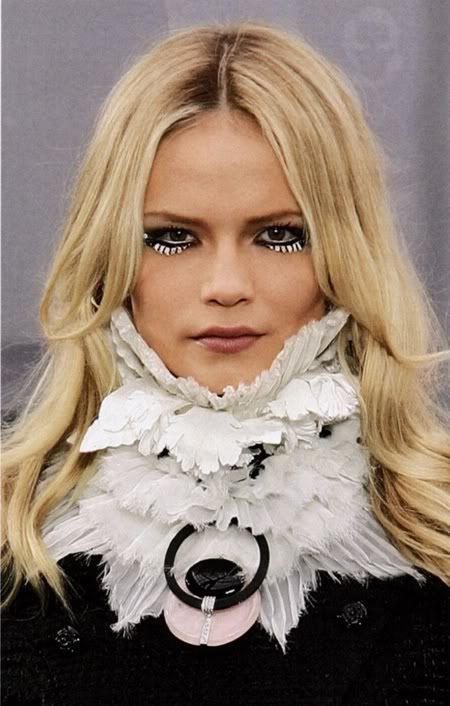 Chanel 09 fall look.
Credited pic. to Gin&Roses.blogspot.com.
I got tons of compliment on those lashes today and almost everywhere I went have people saying they might/should do those lashes in the future. :) Those sweet compliments from those strangers made my day!!! haha..
The camera/light fade most of colors on me.
I use MAC pearl shadow around eye corner, smash Box baby pink shadow all over upper eye lid and Mac Gold shadow just above the crease.
Enjoy the pic.
That is my friend, Karen's dog, Daisy!!!
he he.. just got my prize~~~ Candy!!!!
My ODJ.
1. Costume National C.N.C black sheath dress w/ deep V back and ruffle trim.
2. Hermes Kelly riding boots
3. Chanel 09 black caviar Mini flap
Those lashes w/ white mini balls are perfect highlight for my eyes under the mask!!!
This is the most hilarious costume/theme in the entire neighbor!!
Marley & Gloria (in the movie: Madagascar), the zebra & the hippo are dancing behind the window!!!!
Look how many adults and children are fascinated by the dance moves of Marley & Gloria. haha..
Niel and Irene's son, Ethan are counting how many candy they've got the whole time.
Irene is 6 month pregnant w/ her second son and she is still so energetic!!!
I am happy for her!!
This is one of the moment that kids (even Ilona) would not be afraid of "ghosts"!! he...
We really love the neighborhood and everyone seems had so much fun!!
We dinned at Japanese restaurant after trick or treat w/ Irene's family.
It is already 10 PM when we got home!!

What a day!!!
Thanks DH for being so supportive for letting me taking acting classes and babysits kids while I am gone every Saturday!!
Have a great Sunday!!!



Our lucky girls for this GIVEAWAY are shockboogiedesign & dos3n. Yay!!!!





I think I will give Make Up For Ever concealer to shockboogiedesign and the YSL nude lip stick to dos3n. Hope you two are happy w/ this assignment. haha.......



I will always give more chances to girls who didn't win in the future.!!!